HRC Ministries
Helping ReDEEM Captives
HRC means "Helping Redeem Captives" and is an anti-trafficking and support organization that exists to bring freedom and safety to those exploited by sex trafficking through prevention, education, and recovery services, because of Christ's love, through the power of the Gospel.
The Journey
HRC was founded in 2015 as a ministry partnering with churches and organizations to perform outreach to the community. Originally, HRC was the initials of Harry, Randy, and Caleb Altmeyer. As the outreaches continued to grow, and they got more involved in their community, they began hearing stories of women and children being trafficked and knew they needed to act. Today HRC stands for "Helping Redeem Captives" and its focus has shifted to solely ministering to survivors of trafficking with a learning center, a long-term anti-trafficking program, and transitional housing and reintegration services.
A family ministry
Harry Altmeyer was born September 7, 1920. While his father wanted nothing to do with God and would even burn his mother's bibles, at 12 years old Harry decided to follow Jesus and was baptized at Grace Baptist Church in Spokane.
At the age of 15, Harry started working in the Grocery Industry and would continue in that industry for most of his life. In 1948 while working at the B and K market in Spokane, he met a waitress that worked across the street named Earline. The two were married in 1949 and soon after had 5 sons.
In 1956 Harry and Earline decided to put their faith in action and started volunteering with their children at the Union Gospel Mission. Due to Harry's commitment and consistency to helping the homeless in our community, he was asked to be a board member in the early 1960s until 1976 when he was asked to step in as the Executive Director of Union Gospel Mission.
At this time Harry had excelled in his work and was the Manager of Lo Cost Food Market. Feeling a calling from the Lord to help fight for those that were homeless Harry and Earline decided to retire early, take a pay cut, and dive full-time into ministry.
This decision was a big turning point for the family and it so impacted their oldest son Randy that shortly after in 1977 he began feeling the call to ministry as well.
In 1978 Randy and his wife Shelley were married and excited to dive into ministry. Five months into their new marriage, however, Randy and Shelley were in a horrible car accident that left Shelley paralyzed.
Due to their faith in Jesus, Randy and Shelley didn't let that hold them back and continued into ministry. Eventually, in 1985 Randy would join his father Harry in ministering to the homeless and would continue his work at the Union Gospel Mission as the Men's Director for 30 years.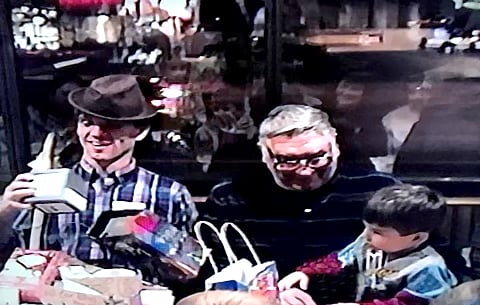 Randy and Shelley wanted to be parents and eventually, they had two sons, Caleb and Jonathan. Caleb is the oldest son, he struggled with the concept of God because of his mother being paralyzed and ended up rebelling in his early high school years. However, in 2007 at the age of 18, God spoke to Caleb in a dream and called him into ministry and in 2012 Caleb started a charity to help youth in Spokane.
In 2014, A pastor friend of Randy's called and told him that he had someone he needed to meet. Little did they know that meeting would change their family's life forever. The person that Randy met was a family friend and she began to tell her story of how she was trafficked from a young age.
This story broke Randy's heart and he shared it with his family. The next day Caleb brought up the story in his staff meeting and one of his co-workers began sharing her story of being trafficked as well. At this point, the family knew they needed to do something to help.
Caleb took a trip to Plymouth Rock to pray, and Randy went on a 40-day fast. As Caleb prayed he saw the letters HRC, with the names Harry, Randy, and Caleb next to them. He continued to pray and felt God tell him to go home and continue the legacy of his family and to work with his father to help reach hurting people in need in Spokane.
At the same time Randy was on the 40-day fast he felt God tell him that he was to retire from UGM after 30 years to go work with his son Caleb to fight human trafficking.
In 2015, Randy retired from UGM and Caleb changed the name of the organization to HRC Ministries. HRC was launched as a multi-faceted outreach and anti-trafficking organization and over time the family has decided to fully focus their efforts on the fight against human trafficking and welcome others to join them in the fight.